Our services included :
- Feasibility studies to new and existing design development and budgetary.
- Conduct service and maintenance to existing fire protection system to existing building.
- Offer lump sum design, installation and authority approval package.
- Service, refill and renewal of licenses to portable extinguisher.
- Applying and renewal of business licenses.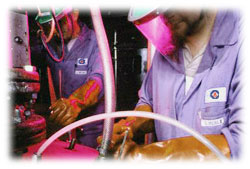 In order to provide better services to our valued clients and ensure optimum performance of maintenance department with experience personnels attending on request to all emergency breakdown call services, system training and briefing on all installed system during and even after the liability period.
The company is currently implementing quality system in their organization and is in the process of obtaining Quality Assurance ISO 9001:2000 certifications.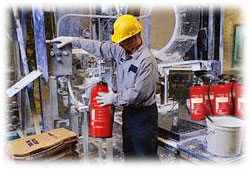 The Company prepared to take up all range of fire protection works. Our approach is based on singular point of accountability. Our company philosophy is to deliver project with professionalism. Our commitment to timely completion and with highest quality product installation has become our company's pride. Inevitably, we see ourselves being invited to provide to our repeated clients.
Besides fire fighting jobs, we has also completed quality air conditioning, plumbing as well as electrical works and prepared to take up all fields of M&E works.